Here's a SHOUT OUT to Ogrepuppy for purchasing this DCC module for me in PDF format! I plan to run this module myself someday, so I figured it would be a good idea to wrap my head around the lay of the land:
Keep in mind that this is only the top portion of the Ziggurat poking out through the earth, and not really a step-pyramid per se. I made each level 12' tall (10' rooms with 2' floors in between) which seemed to fit the provided side-view pretty well.
Unfortunately, I hit my first snag on the first floor. I translate 2-D floor plans into 3-D models & renderings for a living, but try as I might, I was never able to reconcile the "Exploded" view of areas 1-3 and 1-4 with the "Side View" printed on the same page. My main two hangups were thus:
And as you can see in this overlay, in order for the stairway leading to area 1-5 to lead toward the center of the pyramid, I needed to place a stairwell pretty much in the center of area 1-4. Like this: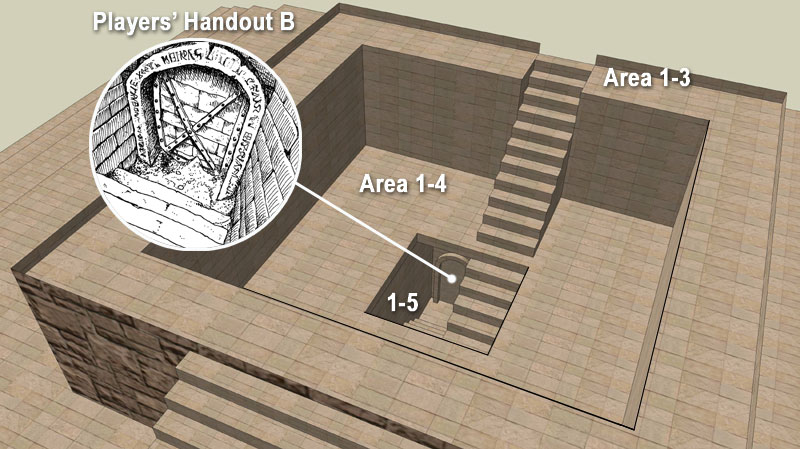 So the revised floorplan (when I draw it out for my players) will look something like this:
Even if I placed the top of the 1-3 stairs in front of area 1-2, a fifteen foot stair still leads directly to the center of area 1-4, so I don't see any way around placing a stairwell there, even though there isn't one to be found on the provided map.
Area 2 is at bare minimum 150 feet long, so in order for the vaulted ceiling in area 2-3 to fit inside the pyramid, Area 2 pretty much has to be placed below ground. I was able to configure the stairwell so that Area 2-1 aligns with the upper portion of the ziggurat reasonably well: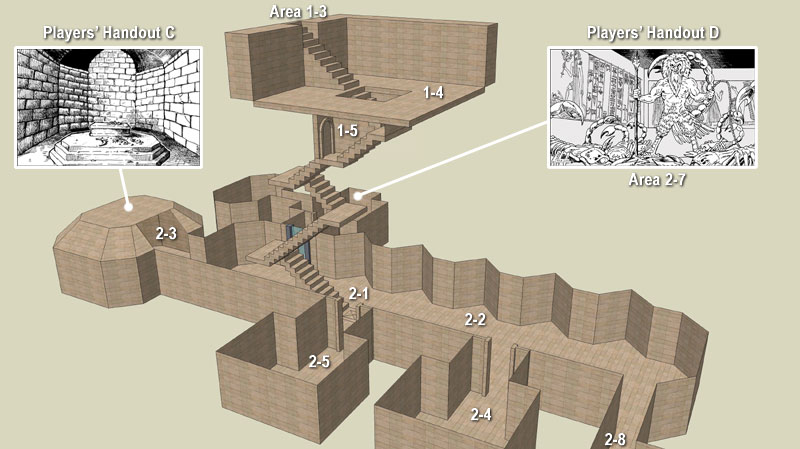 So this is my preliminary salvo. I will eventually be posting detailed pics of levels 3, 4, 5, and the stairwell configuration I invented to connect them all. Much more to come!