My Free RPG Day was a good one.
YottaQuest
(in Cincinnati) really does a great job. They ordered 4 complete kits and ran something like 19 separate rpg and board game events from 9:30am until midnight.
Anyone could take one item, if you played in an event you got another, and if you ran an event you got two more*.
I signed up as a player for
The Undulating Corruption
(run by adminfoo) and ran
The Jeweler That Dealt in Stardust
myself. It was a long day (9:30am-7:30pm) but completely worth it.
I played the Dwarf from the
pregens
in
The Undulating Corruption
. Dwarves are rapidly becoming my favorite DCC RPG class/race. Jim Wampler, who does the
Marvin the Mage webcomic
, played the corrupted Wizard. The other two players were new to DCC RPG, but seemed to really dig it. They particularly loved the crit and fumble tables.
I won't spoil the adventure, but we were successful in slaying the monster (thanks to the Cleric rolling a natural 20 on his spell check for Bolt From The Blue (
91
points of damage!) but the Wizard remained corrupted (actually
more
corrupted, due to rolling a 1 the first time he tried to cast a spell).
I had 4 players for
The Jeweler That Dealt in Stardust
. Each one chose one of the
official pregens
and I randomly assigned them a 3rd level Thief generated using the indispensable
Purple Sorcerer Upper Level Character Generator
**.
Only one of the players (who chose the Cleric) had any prior experience w/ DCC RPG. Fortunately they all took to it like ducks to water. Mid-session two of the four went over to the register and bought dice on the spot even though I had brought 4 sets.
Again, no spoilers, but a good time appeared to be shared by all. Lots of spontaneous cheers and high fives.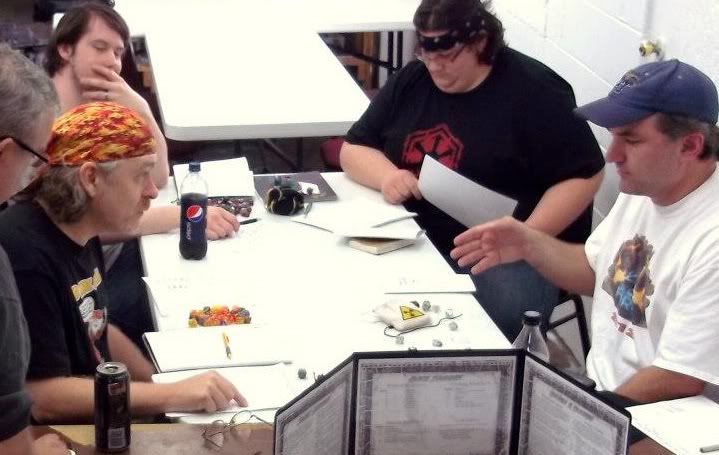 Photos courtesy of YottaQuest
*I took an extra copy of the DCC adventures for my GF (she's credited as a playtester for TJtDiS) and I got her a Q-Workshop D6.
**Seriously,
in·dis·pen·sa·ble
. if you haven't already backed his
Kickstarter project
, you really, really should.