For your peasant mangling pleasure...
http://www.bygrinstow.com/products/zerocard.html
(only in the US at this time)
http://www.ebay.com/itm/291943850250?ssPageName=STRK:MESELX:IT&_trksid=p3984.m1558.l2649
(an option for outside the US)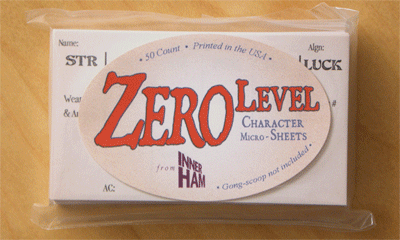 _________________
Gnome Boy
• DCC playtester @ DDC 35 Feb '11. • Beta DL 2111, 7AM PT, 8 June 11.
Playing RPGs since '77
• Quasi-occasional member of the Legion of 8th-Level Fighters.
Link:
Here Be DCC Monsters
PbP Purple Planeteers

!
Havarth • Cleric/Zikcub • Animal trainr • L
S11 A11 S9 P15 I9 L7
AC10, HP12, R0 F1 W2
Glaive+0 1-10
Club+0 1-4
X' chain, sack
Bless, Dtct Ev, Prot fm Evil, Word oCmmnd
Lucius • Cleric/Verlore • Slave • N
S13 A11 S8 P15 I11 L11
AC10+, HP6, R0 F0 W2
Sword+1 _
Club+1 2-5
Hide armor, flint/steel, green stone, oil 1
Crit table +1
Dark, Holy Sanct, Resist Cold/Heat, Word o Cmmnd
Toby • Squire
S13 A10 S14 P15 I16 L9
AC10+, hp3, R0 F1 W1
Lg swrd+1 2-9
Scale armor, sack, helm, L' rope, torch • Com, Chaos, Hobgob
Kelven • Smuggler
S14 A8 S11 P12 I7 L10
AC9+, hp2(4), In-1, R-1 F0 W0
Sword+1 _
Staff+1 or Sling -1 2-5
Scale armr, waterprf sack, L' rope, torch, 39cp
Runes:
https://i.imgur.com/xGUofHk.jpg
RIP
Stinky Pete, Ostler —
Spine snapped by tackling Kith