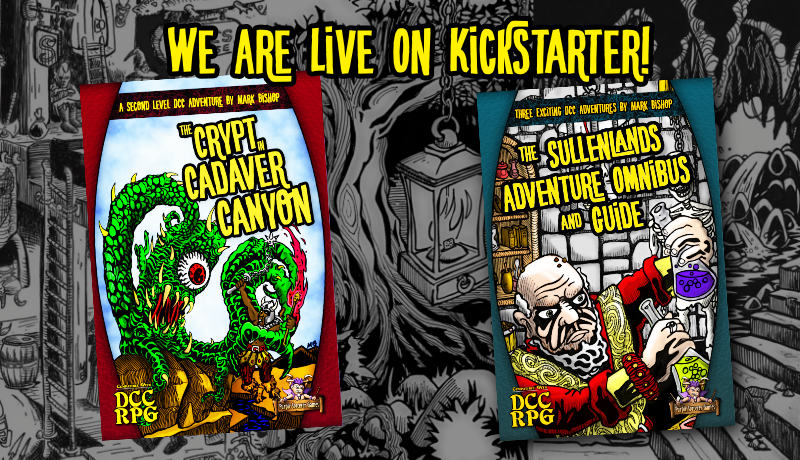 I can't believe it's been almost two and a half years since we published our last Purple Sorcerer Games adventure: so I'm thrilled to announce that the next adventure in Mark Bishop's 'Nebin Pendlebrook' line of adventures,
The Crypt in Cadaver Canyon
is here, and it's bringing along some friends!
The new adventure challenges your players to save an ancient desert city (and its cursed inhabitants) from the wrath of a devious and chaotic god!
The Kickstarter is now live!
We're crowdfunding this time to help us include awesome new covers from two of our favorite artists: Stefan Poag, and Peter Mullen! The campaign will also help up produce the massive new Sullenlands Adventure Omnibus and Guide, which combines all of Mark's adventures into one tome, while also adding mountains of new content, including: campaign details, monsters, magic items, thieves guilds, a host of random tables, a new dwarven cleric class, a dwarf god/patron with spells, a new mini-adventure set in the Sullenlands, and much more!
We know this is a busy crowdfunding season, so we truly appreciate everyone who continues to support Purple Sorcerer Games!
—Jon and Mark