PSG: The Ooze Pits of Jonas Gralk
Posted: Mon Jul 16, 2012 1:52 pm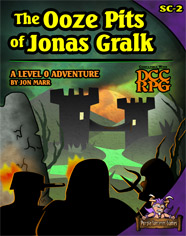 I'm excited to announce that the 2nd Sunken City Starting Adventure, The Ooze Pits of Jonas Gralk, is
available at RPGNow!

I've had a really fun time creating this one while weathering all the Kickstarter craziness, and hope everyone enjoys it.
Those with The Ooze Pits in your Crawler's Companion Kickstarter reward package should be receiving your download links. If not, let me know!
Thanks everyone for the awesome support.