Coming in March – Critter Cache: Fey Folk
Goodman Games and Blackdirge Publishing lure you to the wilds of the Fey Realm with
Critter Cache: Fey Folk
. Within, you'll find over 20 new fey foes to bedevil PCs of all levels, plus some classic favorites updated for 4E.
Critter Cache: Fey Folk includes the following monster entries:
Faerie Beasts: Cait Sidhe, Cu Sidhe, Pooka
Gremlin: Boggart, Knocker, Reaper Gremlin
Nymph: Alseid, Avernead, Maenad, Naiad, Oread
Red Cap: Red Cap Belly Ripper, Red Cap Blood Magus, Red Cap Crimson Reaper, Red Cap Warrior
Sasquatch: Sasquatch, Sasquatch Forest Lord, Yeti
Sidhe: Beanne Sidhe, Bolg Sidhe, Leanan Sidhe, Tua Sidhe
Spriggan: Spriggan Warrior, Spriggan Titan Guard
Coming in April – Critter Cache: Daemons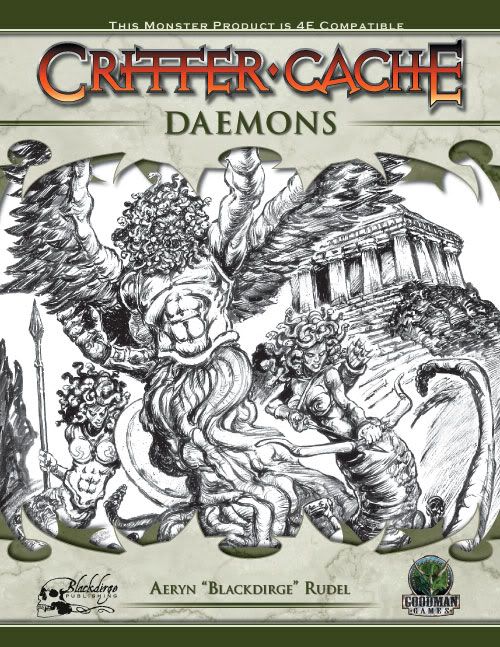 Looking for some middle ground in your planar baddies? Demons too chaotic? Devils too organized? Then let Goodman Games and Blackdirge Publishing introduce you to the mercenary inhabitants of the Pit of Tartarus in
Critter Cache: Daemons
. Here you'll find daemonic challenges for all levels, from pathetic larval minions, all the way up to the dread progenitor of the entire daemonic race, Typon himself. In addition,
Critter Cache: Daemons
includes all you need to know about the Pit of Tartarus, the history of the daemons, and how to include both in your 4E campaign.
Critter Cache: Daemons includes the following monster entries:
Cacodaemon: Cacodaemon
Chirodaemon: Chirodaemon
Cruciodaemon: Cruciodaemon
Cryptodaemon: Cryptodaemon Assassin, Cryptodaemon Skulker
Ferrodaemon: Ferrodaemon Hoplite, Ferrodaemon Myrmidon, Ferrodaemon Peltast, Ferrodaemon Phalangite
Megalodaemon: Megalodaemon
Necrodaemon: Necrodaemon Harbinger, Necrodaemon Soulstalker
Pathodaemon: Pathodaemon
Soul Larva: Common Larva, Howling Larva, Hydra Larva, Larval Hulk
Spawn of Typhon: Euryale, Stheno
Terradaemon: Terradaemon
Typhon: Aspect of Typhon, Typhon
Tyrannodaemon: Tyrannodaemon