Coming in December - Critter Cache: Prehistoric Beasts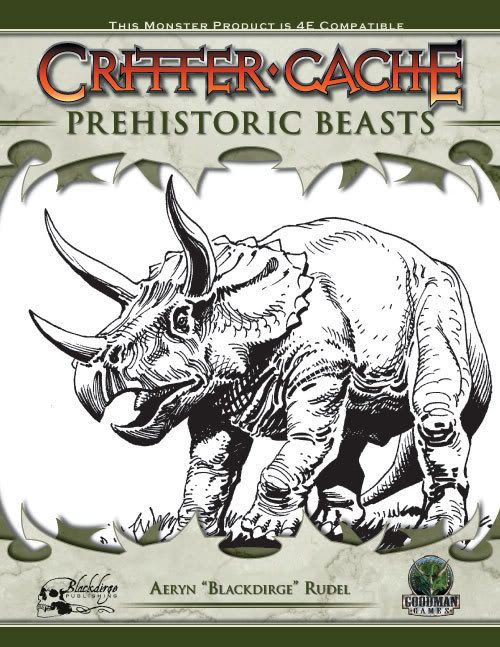 Bring the primeval back to your campaign with the over 25 prehistoric beasts and behemoths. In the pages of
Critter Cache: Prehistoric Beasts
you'll find primordial beasties suitable to challenge players up to 24th level, including:
Deathjaw Behemoths: Devilsnout Behemoth (Ceratosaurus), Sailback Behemoth (Spinosaurus), Tyrantfang Behemoth (Tyrannosaurs Rex)
Finned Behemoth: Seawolf Behemoth (Plesiosaurus), Titanmaw Behemoth (Liopleurodon)
Hardskull Behemoth: Demonskull Behemoth (Sygimoloch), Shatterskull Behemoth (Pachycephalosaurus)
Horned Behemoth: Parrotjaw Behemoth (Protoceratops), Spikefrill Behemoth (Styracosaurus), Hornface Behemoth (Triceratops)
Leatherwing: Daggertail Swarm (Rhamphorhynchus), Crested Leatherwing (Pteranodon), Dire Leatherwing (Quetzalcoatlus)
Prehistoric Crocodile: Walking Crocodile (Postosuchus), Titanslayer Crocodile (Sarcosuchus)
Prehistoric Fish: Steelsnap Leviathan (Dunkleosteus), Megatooth Shark (Megalodon)
Raptor: Knifetooth Raptor (Velociraptor), Feathered Raptor (Deinonychus), Deathtalon Raptor (Utahraptor)
Spikeshell Squid: Spikeshell Squid (Endoceras), Spikeshell Kraken (Cameroceras)
Swiftscale: Swiftscale Hopper (Coelophysis), Swiftscale Bandit (Oviraptor), Swiftscale Racer (Dryosaurus)
Thunderstep Behemoth: Ironskin Behemoth (Saltasaurus), Earthshaker Behemoth (Argentinosaurus)
Coming in January - Critter Cache: Animals & Beasts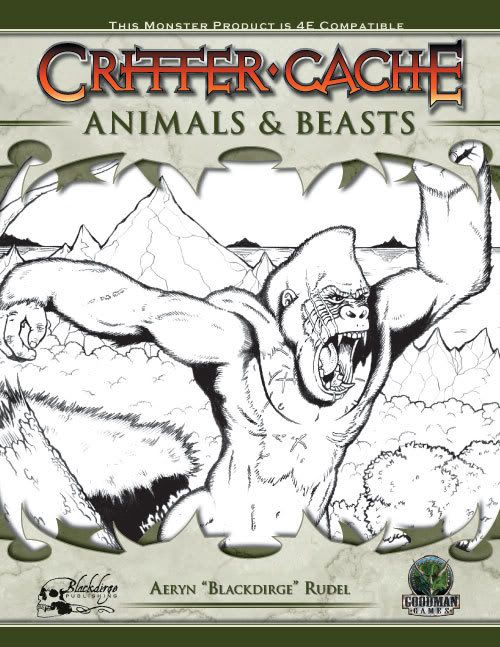 Need a bit more of the natural in your 4E campaign? Looking for intriguing challenges, mounts, and allies for your PCs that are rooted in the good ol' real world? Then look no further.
Critter Cache: Animals & Beasts
presents over 20 animals, beasts, and other real-world-inspired critters for your 4E game, including:
Ape: Ape, Dire Ape, Tyrant Ape
Eagle: Golden Eagle, Dire Eagle
Elephant: Elephant, Mammoth, Olyphant
Giant Lizard: Giant Lizard, Tunnel Lizard, Butcher Lizard (Megalania)
Lion: Lion, Cave Lion
Rhinoceros: Rhinoceros, Wooly Rhinoceros, Thunderhorn (Brontotherium)
Tiger: Tiger, Saber-Tooth Tiger (Smilodon)
Weasel: Dire Weasel, Dire Badger, Giant Skunk
Wolverine: Wolverine, Dire Wolverine